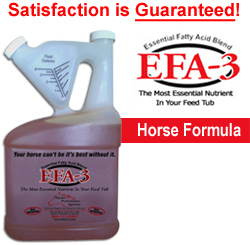 EFA-3 Two Bottle Set
$79.00
EFA-3 Case 8 Bottles (4 Gall.)
$285.00
EFA-3 is a blend of organic human grade seed oils. EFA-3 is 80% flaxseed oil with a blend of cold pressed, unprocessed, organic Omega-6, DHA and EPA rich oils to achieve the desired balance of effective essential fatty acids.
INCLUDED IN LIST PRICE:
2 Bottle set shipping: $10.00
Full case shipping: $16.00
CONTAINER: 8 bottles (560 oz.)
RECOMMENDED DOSAGE:
4-10 oz./day (adult Thoroughbred)
APPLICATION:
Top-dressed on feed
A WORD ON COST:
Consider EFA-3 an investment. Your horse will stay healthier from sickness, respiratory ailments, inflammatory conditions, allergies, etc. The cost savings on medications and veterninary expenses more times than not counteracts the direct cost of our product. Not to mention that you may also make up the difference in the race, show ring or sales arena.
Feeding EFA-3 will be profitable!
Bulk discounts available. Discount determined by the number of horses you are feeding.
TESTIMONIALS
I've been using Omega 3 for approximately 4 years. During that period of time not
one of my horses (18-24) has exhibited signs of sickness. Foals are larger and stronger,
broodmares recover more promptly following foaling and their milk supply is more
abundant and richer. The race horses hold there weight, overcome normal illness very
promptly,and are calmer.
The anti-inflammatory properties of Omega 3 is all that is required to address minor to
moderate strains and sprains. The savings in vet bills surpasses the cost of Omega 3.
Omega 3 is the only supplement that has enabled a blind mare to remain free of the
symptoms of Uveitis. As she no longer requires Bute or steroid drops she has gone on
to become a productive broodmare. Shipment is prompt - I have left my credit card number with Dakota's Healthy Nutrition.
I would welcome a call from any perspective buyer of this natural product:
Don Porter
(905) 834-6238
Don P. — Ontario, Canada
We have been giving our dog, Buddy, Mark's EPA oil for a couple of years now. I was skeptical
at first, because we've all heard about new products that are too good to be true.
Buddy is a 9-year-old yellow Labrador retriever. We started to notice on cold mornings Buddy
was having a really hard time getting up on his back paws. Mark suggested starting him on the
oil, and since we have been giving it to him, we have noticed he's having a much easier time
getting up in the morning and doesn't seem sore at all after a long walk.
Another benefit to the oil has been Buddy's coat. Although we have always tried to keep him
clean, he never felt soft or shiny to me. That has all changed since the oil too! He stays groomed
and smelling fresh a lot longer once he's bathed!
We won't stop giving the oil to Buddy and any other dog we have in the future will be started on the oil right away!
Susan — Landenburg, PA
My 155 lb. South African Mastiff had two stage 3 mast cell cancerous tumors removed last month and looked just awful post-surgery. After just a few days back on the EFA-3, her coat returned to its usual sheen and softness and the nervous shedding stopped.
It has also helped her hip-dysplasia-induced arthritis, as well as her (and my) overall well-being.
Thank you for keeping my best friend happy and healthy.
Pam — Phoenixville, PA
Mark,
We made it through another frisbee catchin snow drift jumpin winter and NO hip issues
at all!!!
I have attached another great pic of Jackson for you!
He is doing great – catching them higher and higher all the time!
:-) Lisa
Lisa — Chesapeake City, MD