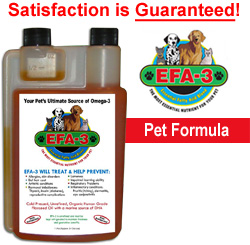 EFA-3 Pets Omega 3 Source
: $32.00
EFA-3 Pets Omega 3 Double
: $55.00
EFA-3 is a blend of organic human grade seed oils. EFA-3 is 85% cold pressed flaxseed oil with a blend of cold pressed DHA oil (algal) to achieve the desired balance of effective essential fatty acids.
INCLUDED IN LIST PRICE:
Single bottle shipping: $5.00
2 Bottle set shipping: $8.00
CONTAINER: 1 liter (approx 35 oz.)
RECOMMENDED DOSAGE:
One tablespoon for every 25 lbs of bodyweight.
Recommended to be split into two feedings.
Bottle reservoir is one ounce (two tablespoons).
APPLICATION:
Top-dressed on feed
NUTRITION FOR PETS
I use human grade, organic ingredients that are cold pressed just before bottling. EFA-3 was originally produced for the performance horse. It has profound benefits for the performance horse and has gravitated to small animal applications. The beneficial nutrients are in an unprocessed natural state and take time to take effect. Allow 6-8 weeks to see the differences EFA-3 makes to your pet. It is a cumalative effect; the longer it is fed, the better the entire physiology will become. EFA-3 will supply the necessary essential fatty acids to help keep your pets healthy and happy.
BENEFITS OF EFA-3 FOR PETS INCLUDE:
Allergies, skin disorders, itchy skin
Dull hair coat
Arthritic conditions
Lameness
Hormonal imbalances: Thyroid, Insulin (diabetes)
Reproductive complications
Inflammatory conditions
Puritis (itching), dermatitis, eye conjunctivitus
Impaired learning ability
Respiratory problems
WHAT ARE ESSENTIAL FATTY ACIDS?
The two primary essential fatty acids are Omega-3 and Omega-6. Omega-6 is the more stable of the two. It can withstand processing, creating a longer shelf life for the product containing it. Omega-6 is the primary essential fatty acid in commercial horse feed and supplements because it is readily available, cheaper, and easier to market. An important point is that under typical marketplace conditions, Omega-6 can have negative effects when consumed because it is derived from the fat content of the feed, which is in the form of highly processed soy, corn, or other inexpensive oils. An overabundance of Omega-6 (especially in a processed state) serves as a precursor to the arachidonic acid. Arachidonic acid produces type 2 series prostaglandins.5, 12, These compounds create a catabolic environment within an animal's system.2, 7 Catabolic refers to a muscle wasting, pro-inflammatory, immune suppressing, injury prone state.